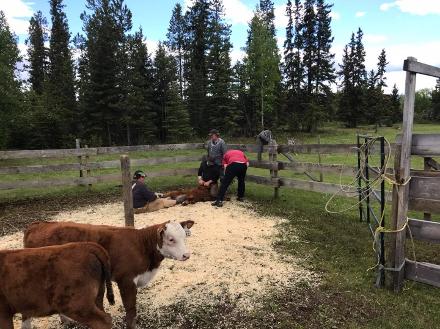 Hello all, hope that everyone is in good health and everyone is enjoy our
beautiful
spring weather, sunshine or rain!
With this years Bull Sales over we at C-Jay Ranch would like to Thank our 2020 buyers:
McNiel Livestock, Jim McConaght, Ridge Ridge (x 2 bulls),
We Thank you for your support.
With bull sales over we have just recently had our annual branding, all calves are healthy and ready for pasture.
We are offering for the first time this fall open
purebred
females, most sired from our herd bull
Red Bieber ACC Spartacus E718.
For more
information
please feel free to contact us at C-Jay Ranch
Hope everyone has a healthy and prospective year, hope to see you soon down the road!
April 1st 2020
Hello all, hope everyone is in good health and calving is either done, half way done or just getting started.
Either way hope it is going well!
Here at C-Jay Ranch we have just begun to calve and with two healthy heifers on the ground we are hoping for a good successful calving season.
Normally this time a year we here at C-Jay are preparing for the Annual Williams Lake Bull Show & Sale. But with everything going on in the World and here in BC, things this year are going to be a bit different.
The 83rd Annual Williams Lake Bull Show & Sale this April 17th, 2020 will go ahead but with changes.
The sale will be online only through TEAM Action Sales. The Bulls will not be at Williams Lake this year, also all other events scheduled around the 2020 Williams Lake Bull Show & Sale have been canceled due to current restrictions implemented by BC Livestock Producers Coop in accordance with Provincial Government & Public Health regulations.
Buyers are to visit
www.teamauctionsales.com
to register and to view pictures and videos of all the animals consigned to sale and to purchase the bull of your choice.
If this is not an option for any buyer please either contact us at C-Jay Ranch (250)845-3330 or Wilf Smith (250) 267-3898.
We are currently trying to get the sale bulls all cleaned up for their updated pictures and videos, unfortunately the weather isn't co-operating as well as it should be. Woke up to -18C this morning and only got up to -7C today.
Forecast saying warm weather on its way!
Once we get a bit warmer temperatures expect updated pictures, videos, weights and semen testing scores.
If you need more information on any bull or questions regarding the changes this year, don't hesitate to call, email or text.
From everyone here at C-Jay Ranch we hope each and everyone of you are in good health, and look forward to see you all down the road.