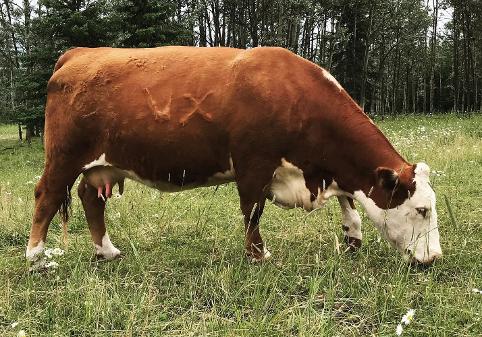 17A has proven to be a great edition to our herd. She has done a good job with her calf this year with lots of milk and she kept her weight good too this summer.
Deanfield 18K Gold STD 15S
Sire: BRY-DER 15S Gold STD 14X
BRY-DER 14X 12C Volt Lass 14M
WB Sandhill Rock 43N
Dam: Sunnybrae Lass 9S
Sunnybrae Brit Lass 4K
Current EPD's
BW WW YW MILK CE
+5.4 +39.8 +61.3 +15.5 +1.2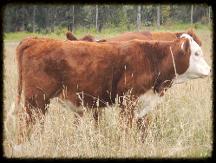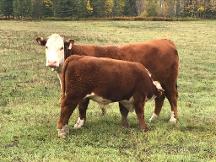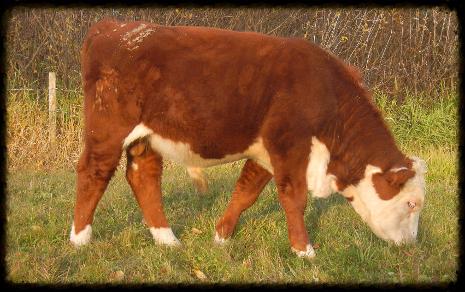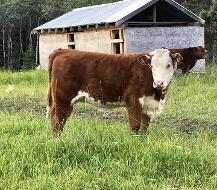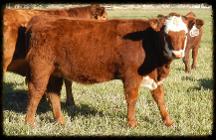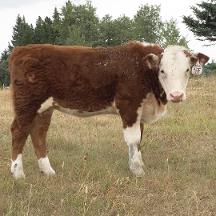 C-Jay 15M Miss Silver Moon 18B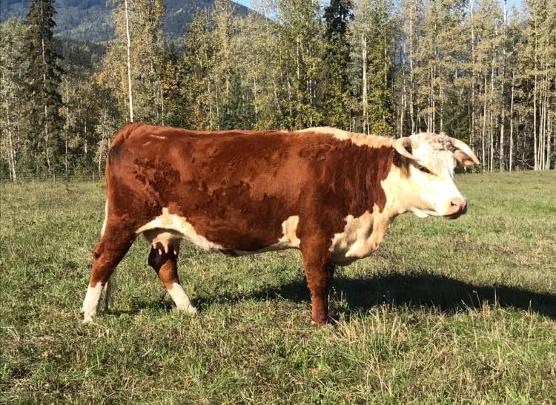 C-Jay 15M Miss Silver Moon 18B
Silver 26E Knight 23K
Sire: Silver Moon 23K 15M
Britisher 8T Lady Bianca 8B
AGA 121G Stanmore 20J
Dam: LBH 20J Miss Standard 118Y
LBH 52N Miss Silver Pride 130U
Nice compact cow with good milk and conformation. Her sire comes from strong cow family with long lived cows with good udders and feet.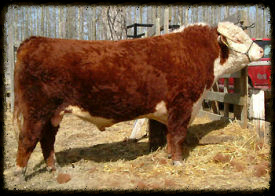 Silver Moon 23K 15M - Sire of 18B
Current EPD's
BW WW YW MILK CE
+3.7 +38.1 +66.2 +19.0 +3.0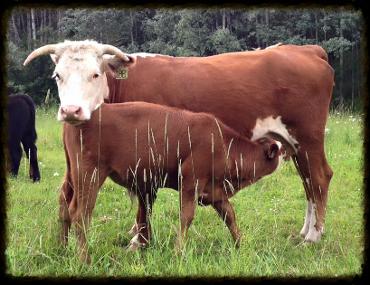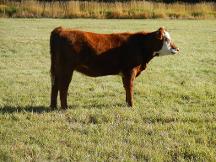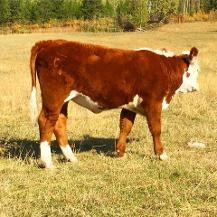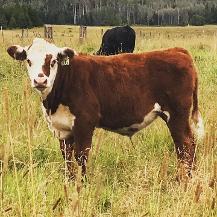 She was a great gift for my daughter from a good friends of ours, Max and Haley Bell of Vallee Creek Herefords. She has done great on our herd with good growth calves.
FE 216S Gold Rush 267W
Sire: FE 267W Gold Rush 40Z
FE 101J Super Rib 242R
FE 23T Super Sunshine 136X
Dam: VCH Sunshine 1A
VCH 53 Gen Cadette Star 26P
+4.6 +43.7 +76.9 +9.8 +4.2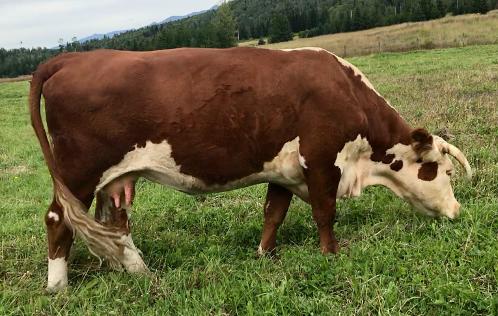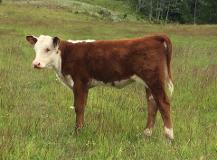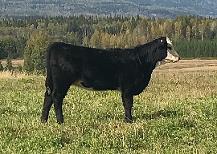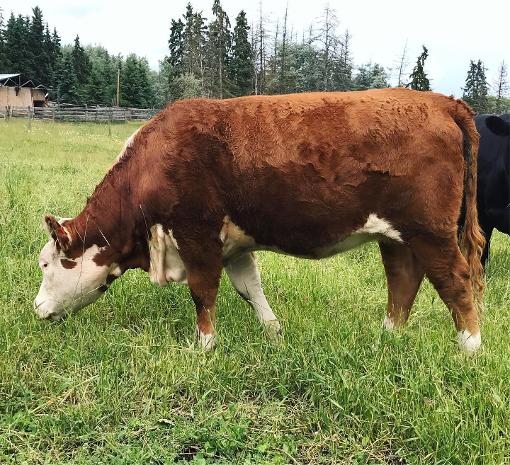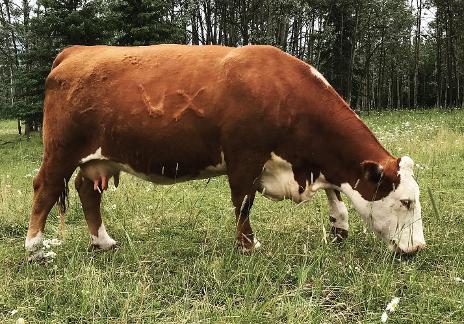 Sunnybrae Lass 17A - Dam to 18F
This heifer has standed out since birth and I could not let her go. Big thick bodied like her dam with the good conversion from her sire, she is going to stand out in mine little Hereford herd.
FE 267W Gold Rush 40Z
Sire: VCH Golden Ray 22D
VCH Ruthie Ray 35Z
Bry-Der 15S Gold STD 14X
Dam: Sunnybrae Lass 17A
Sunnybrae Lass 9S
+5.7 +44.3 +67.9 +13.3 -0.8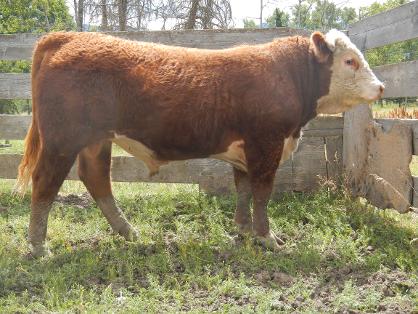 VCH Golden Ray 22D - Sire to 18F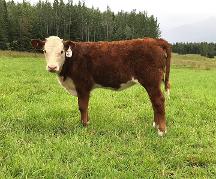 Copper-T 6D Forget-Me-Not 59F
This solid heifer is a great start to Doug's herd. Purchased from Copper-T Ranch as a calf, she has done well on growth and keeping her weight on. Her first calf will be hitting the ground next April.
Churchill Red Bull 200Z
Sire: Tlell 200Z Drifter 6D
PCL Sammi 425X 66A
Tlell R117 Bennett ET 3B
Dam: Copper-T 3B 19A Dahlia 26D
Copper-T 20W 19W Alyssum 19A
Current EPD's
BW WW YW Milk CE
+8.6 +70.3 +113.4 +33.5 -10.6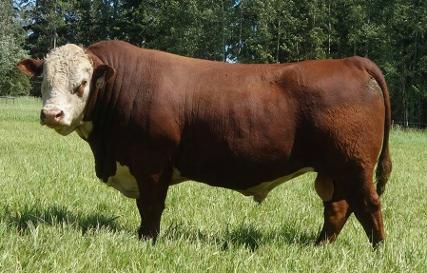 Tlell 200Z Drifter 6D - Sire to 59F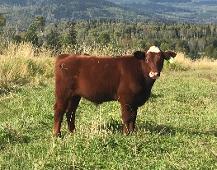 She was a keeper from the start! Needing a heifer for the newest member of the family (Abigail), we figured 7G would be a great female to start her herd. Her sire has great growth and conversion, so we can't wait to see what she looks like as a yearling.
LBH 40W Ribstone 24Y
Sire: BP 24Y Ribstone 20B
BP 39T Ribstone Lady 115W
Churchill Yankee ET
Dam: C-Jay 6160 Gold Dove 12D
C-Jay 9R Little Gold Dove 4U
BW WW YW Milk CE
+5.1 +54.3 +90.9 +26.6 +2.1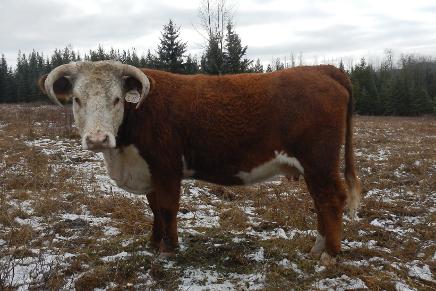 C-Jay 6160 Gold Dove 12D - Dam to 7G